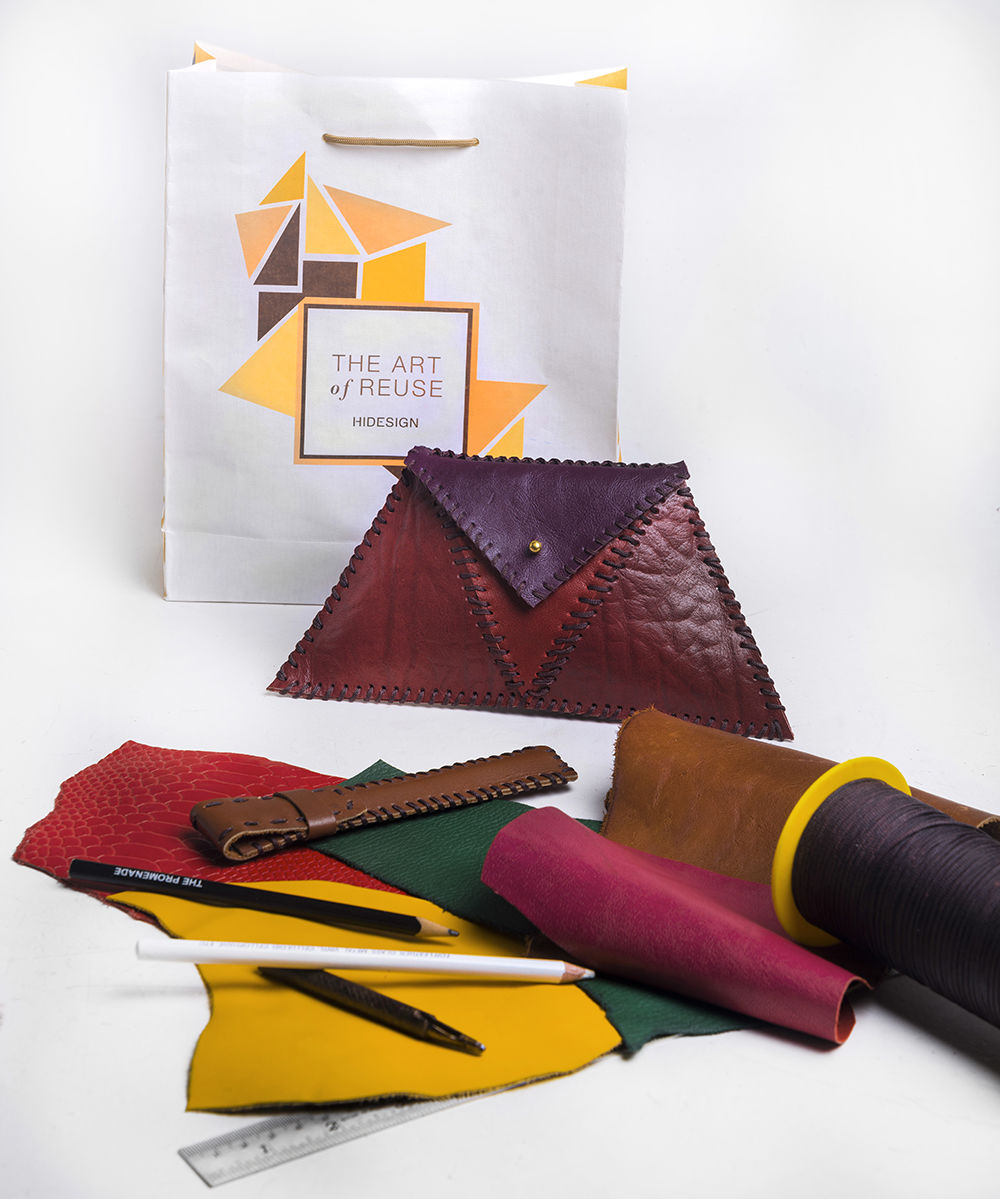 DESIGN FOR YOUR ICON
The Art of Reuse 2015
Hidesign is excited to announce the launch of its annual eco-initiative 'The Art of Reuse'. Hidesign recognized as an eco friendly leather goods brand, has carved a niche for itself. As a brand, Hidesign has consistently tried to create space in its consumers' mind on the importance of being eco friendly, using natural elements, and impressing upon the beauty of the handcrafted. Taking the mandate further one step further, Hidesign would like to stress on the need to recycle and reuse.
This year, Hidesign takes the initiative a step further and gives you an opportunity to Design for your Icon. Whether it is a Steve Jobs or a Marilyn Monroe, the theme allows the participants to use their creativity to the fullest.
The Art of Reuse is an engagement project to support and encourage the practice of upcycling used materials, which one discards as waste or redundant goods into new materials/products of better quality with a higher environmental value. The initiative is in the form of a contest, where participants are encouraged to create new designs out of leather scrap provided by Hidesign in The Art of Reuse Kit, available at all Hidesign stores pan-India, Amazon.in and Shopper's Stop. One needs to register on Facebook to collect the kits from a preferred store and design anything they like. The designs then need to be submitted back at the Hidesign stores and winners will be selected through votes on Hidesign's page on Facebook. On 15th August, three winners will be announced. The first prize winner will win an all-expense paid trip to Hidesign's factory in Pondicherry. The second and third prize winner will win Hidesign gift vouchers worth Rs.15,000 and Rs.10,000 respectively.
This project is part of Hidesign's efforts to communicate the beauty of handcrafting and the joy of human endeavour. The annual campaign by Hidesign reaches out to a larger audience by introducing the simplicity in recycling and increasing the appreciation of handcrafted products. At Hidesign, we believe this initiative could take on a much larger form if we get your support. For further information log onto: www.facebook.com/hidesign.
About Hidesign:
Founded in 1978 by Mr. Dilip Kapur, Hidesign is a lifestyle group, which re-defined the vision of luxury in India through an ethos of high quality, ecological values and personalized service. Hidesign has established its name through its iconic leather brand based on strong heritage of craftsmanship and innovation. Staying true to its core values, the group has extended its concept of lifestyle by opening two luxury boutique hotels in Pondicherry, Le Dupleix and Promenade.
By keeping its focus on a classic contemporary fashion statement, with timeless yet edgy design, Hidesign caters to a highly savvy and sophisticated urban professional. The leather collection includes handbags, clutches, briefcases, wallets, laptop cases, belts and garments. Hidesign stands out for its high quality natural leather and the smooth soft glow of its solid brass fittings.
With a global presence, the group has become one of the first Indian brands to be retailed at premium international outlets – John Lewis and House of Fraser in the UK, Myers and David Jones in Australia, Stuttafords in South Africa, Parksons in Vietnam and Robinsons and Isetan in South East Asia. Hidesign has grown to 84 exclusive stores and a distribution network in 25 countries. In India, the collection is available at all exclusive Hidesign outlets and leading retail stores like Shoppers Stop, Lifestyle and Centrals, and ecommerce portals Amazon, Flipkart, Myntra, Jabong and Snapdeal.