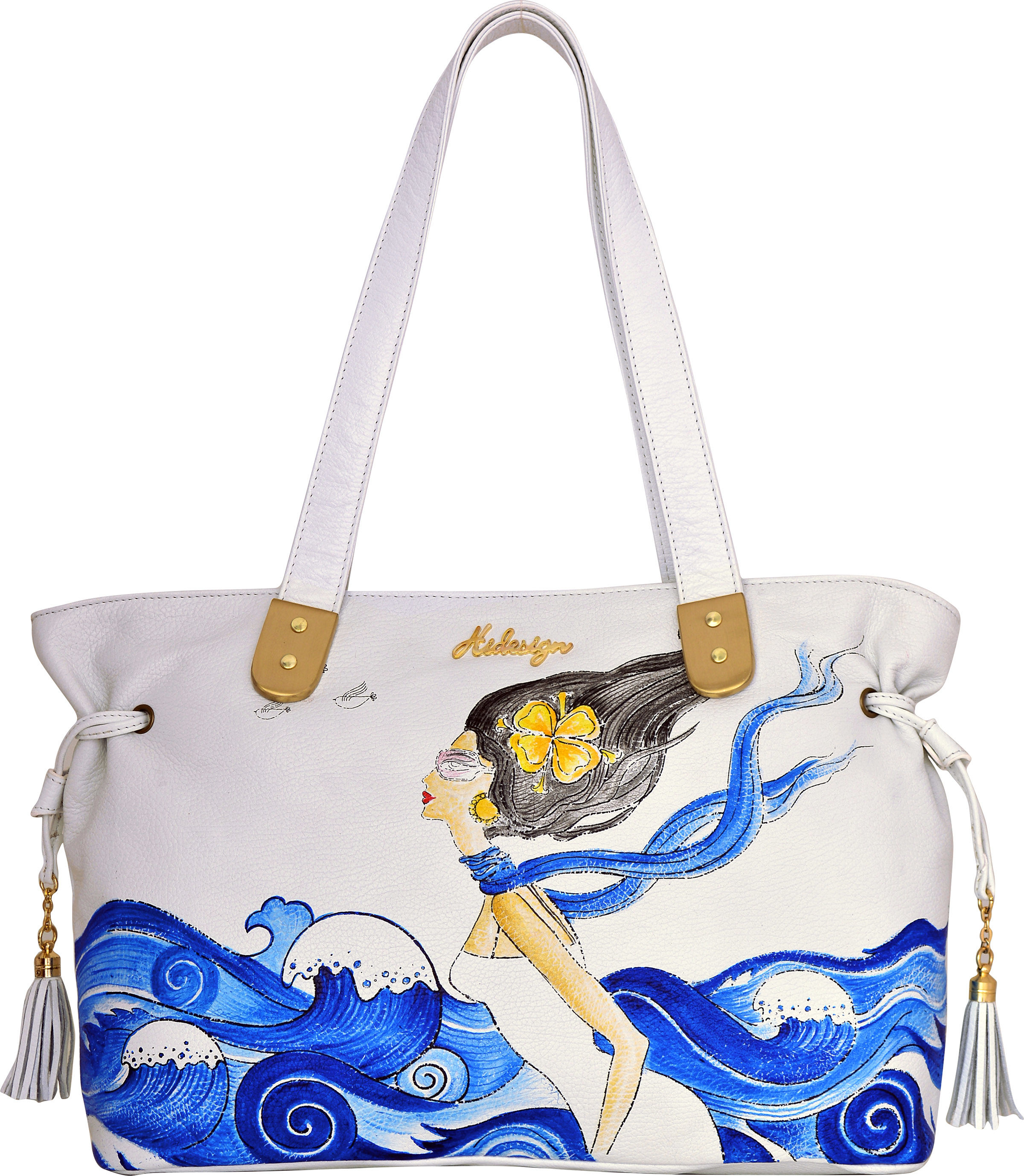 St.Tropez
Art in our lives
Limited Edition of hand-painted collection by Hidesign
"As ocean armed with patience and tranquility,
The mysterious violent waves remind us
Of strength and passion in its beauty"
Pondicherry, 7th Feb 2014: Hidesign's St. Tropez collection of Hand painted limited edition of bags again brings out the art in our lives. In a partnership with artist Amrita Nambiar, each bag is individually handcrafted to express the spirit of St. Tropez in our daily lives.
St. Tropez has always symbolised the most fashionable woman in the world at ease and free by the sea. Only limited number of 100 pieces in each design will be hand painted. The first collection of Hidesign's hand painted bags is already a collector's item. The St. Tropez beautiful pieces are sure to become a collector's dream.
This collection captures the majestic powers of the sea with its distinctive look. This year's collection is inspired by the Hidesign woman.
With a strong, raging, beautiful ocean breaking into waves behind her, the Hidesign woman stands proudly with a loose scarf flowing behind her, mirroring the same strength, and passion that she uses to effortlessly blend her many lives together. Hidesign once again beautifully portrays their commitment to workmanship which they proudly patronize" says Amrita Nambiar.
This limited edition range from Hidesign has a very special attribute- each bag in this collection is hand-painted on white leathers!
The ocean's fearsome elegance is the muse for this range. Fresh springtime colours play prettily on the bags.
The St.Tropez is just the right size for a gorgeous yet convenient day bag. Sprinkle a dash of spring into your day with the St. Tropez wallets and try the St.Tropez shoulder bag when you need to carry your world with you! For lovers of the unusual, here's the season's offering you cannot miss!
On the launch of this special collection, Mr. Dilip Kapur's (President, Hidesign) says, "With the second edition of the Handpainted collection, Hidesign's belief in "Beauty lies in simplicity" is very strongly portrayed in this collection. With our extremely talented and hard-working team of artists here at Hidesign, we again successfully created something spectacular."
Available at all Hidesign stores across India February onwards. Join www.facebook.com and www.twitter.com/HidesignHQ for regular updates. Shop online at www.hidesign.com and avail free shipping to anywhere in India!.
St Tropez Hobo- 9695/-
St. Tropez Shoulder bag- 10,495/-
St. Tropez Bi-fold wallet- 2795/-
St. Tropez Clutch- 3895/-
St. Tropez zip around- 2595/-